---
History
Foothills Performing Arts had humble beginnings as Caldwell Community Theatre in 1976. The student lounge in Building B was renovated into a black box theatre to welcome the newly created group. Shows like Fiddler on the Roof and 1776 were performed in the gymnasium on campus. First in Freedom in 1977 was even performed as an outdoor drama on Gunpowder Creek, which runs behind the college. The first season in 1976-1977 consisted of four shows: The Glass Menagerie, The Butterfinger's Doll, Godspell, and Fiddler on the Roof.

As the drama program in Caldwell Community College and Technical Insititute grew, the school created an opportunity specifically for students called the Collegiate Show Company. They worked in tandem with Caldwell Community Theatre, and eventually merged to become Foothills Performing Arts.

FPA began with the vision of integrating theatre, music, and dance in a wide variety of performances. Important to the foundation of the theatre was a passion to teach. To this day, Foothills Performing Arts continues this tradition by producing quality shows in a professional manner.

In 2016, FPA moved to the J.E. Broyhill Civic Center, becoming the resident theatre.



Original location on campus at Caldwell Community College & Technical Institute in Hudson, NC.

Building B, near the flagpoles.



Become a sponsor!
Foothills Performing Arts has consistently delivered quality theater to Caldwell County for more than 40 years.

Whether producing engaging dramas like The Sunset Limited, hilarious comedies like Don't Dress for Dinner, or large-scale productions like Seussical, Jr., FPA has proudly continued its mission to develop appreciation for the theatrical arts.

You can help further the tradition by becoming a show sponsor. Your tax-deductible donation will ensure the continuation of quality productions while providing valuable advertising for your business.

Sponsor Benefits
Each sponsorship of $1000 will grant your business or organization a full page ad in the season program, a "Sponsored By" tag on all show advertising, and 8 tickets to a performance.

Sponsor Options
Not ready to become a full sponsor? That's fine! For $500 you can be a co-sponsor and share the rewards with another business or organization. That means a half-page ad, 4 show tickets, and the name of your business or organization appearing in all advertising.

Program Ads
Take advantage of our limited time ad discount! Program ads may be purchased for "The Diary of Anne Frank" and "The Odd Couple: Female Version" at a 50% discount! Contact us at foothillsperformingarts.nc@gmail.com to purchase an ad.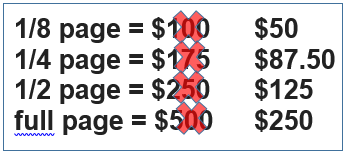 Board Members
Jason McGhinnis, Chair
Heather Hendrix, Treasurer
Amber Biecker, Recording Secretary
Gwen Gibson, Member Emeritus

Kendal Bray

Wanda Ellis
Caryn Gibson
Kimberly Setzer
​Julie Waitz​​

​

​

Mark Allen Woodard, Production Manager​
Amber Biecker, Office Manager
---