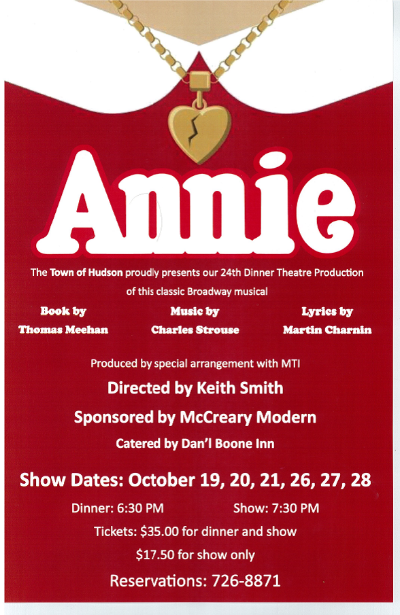 ​​The Town of Hudson is proud to present our 24th Dinner Theatre Production, the classic Broadway musical, Annie!

Annie is based on the iconic comic strip, "Little Orphan Annie," featuring the beloved orphan Annie herself along with Daddy Warbucks, Grace, the flawed and corrupted Miss Hannigan, all the other orphans, Miss Hannigan's ne'er-do-well brother Roster and his sidekick Lily, President Franklin D. Roosevelt and his cabinet and dozens of others. And don't forget Annie's canine friend Sandy! Director Keith Smith says, "Children and animals steal shows and this show is full of both!" The show has many wonderful songs including "Hard Knock Life," "Easy Street," "Maybe," "Little Girls," "NYC," "Fully Dressed," "Something Was Missing," "I Don't Need Anything But You," and the signature song, "Tomorrow."

Tickets go on sale at 8:30AM on Monday, August 28th. This show is ideal for group outings. For more information call the HUB at 828-728-8272.
---
---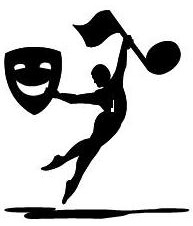 Contact gibson.caryn@gmail.
com
to add your show to this list! Please put FPA or Foothills Performing Arts in the subject line.
---