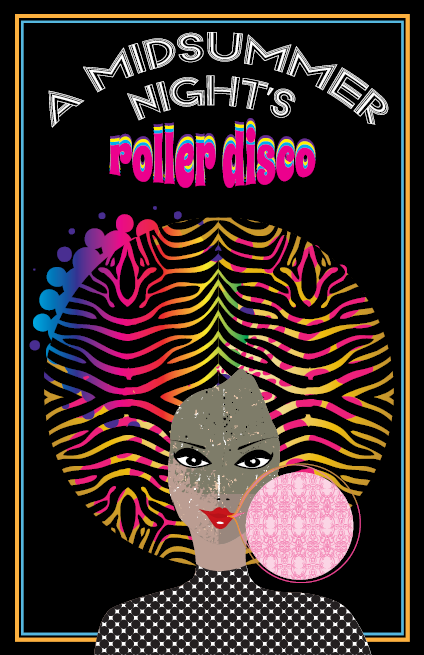 A Midsummer Night's Roller Disco
By William Shakespeare
Adapted by Scott Woodard
William Shakespeare's tale
is re-imagined as a 1970's spectacular set in a roller disco. The classic speech is paired with bright lights, outrageous costumes, non-traditional casting and will be a feast for the eyes and ears alike. The comedy consists of four plots, connected by a celebration of the wedding of Duke Theseus of Athens to the Amazon queen,
Hippolyta. Hermia and Lysander conspire to elope in order to escape Hermia's betrothal to Demetrius. Helena is madly in love with Demetrius, and follows him in his chase of Hermia. The King and Queen of the fairies play tricks on the two pairs for sport while six others plan a performance of a Greek romance intended to be a wedding gift.

Roles for 10-25 Females, 10-25 Males. All ages. Non-traditional casting will be practiced with this show, with no emphasis on age, race, or gender.
Some parts will require the actors to roller skate.

Purchase tickets online HERE!

​Performances:
April 20-22 at 7:30 pm
April 23, 2017 at 2:00 pm
at the J.E. Broyhill Civic Center
---

Individual Ticket Prices:
​$16.25 Adult
$13 Subscriber
$9 Children and All-In
Groups of 10 or more will receive their tickets at the $13 Subscriber rate
*These ticket prices are the price after tax. We have included taxes into the ticket price for your convenience and ease.

Please visit the J.E. Broyhill Civic Center's website to find information on Season Subscriptions, All-In Packages, and Pick 4 options.


If you want to be a season ticket holder for Foothills Performing Arts, those tickets are now purchased through the JEBCC. You will purchase the Pick 4 option, and then select the 4 FPA shows. Those tickets can be purchased over the phone by calling the JEBCC box office at 828-726-2407 or online. The box office is open Monday through Friday from 10 am to 4 pm.
---

---