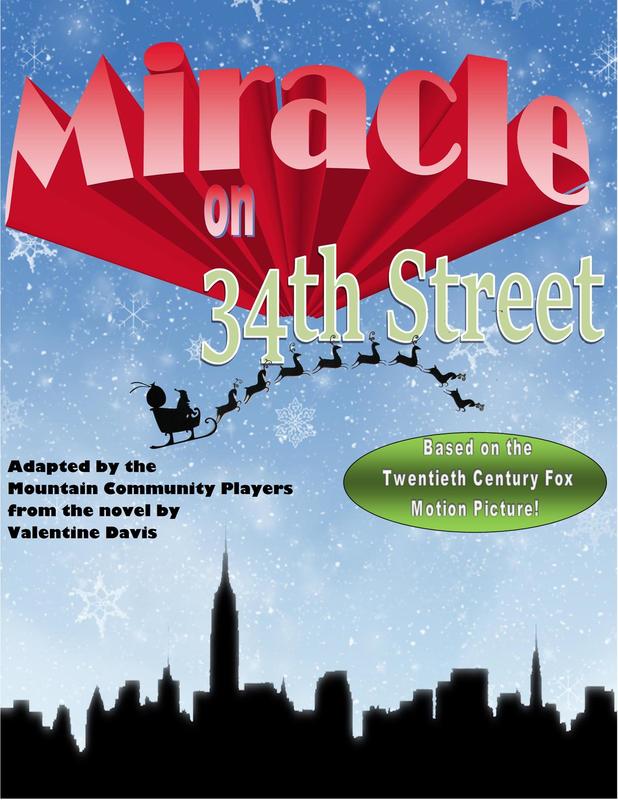 Miracle on 34th Street
​
Adapted from the novel by Valentine Davies, based on the Twentieth Century Fox motion picture by Mountain Community Theatre
​
Directed by Jonathan L. Ray
November 30th, 2017 - December 2nd, 7pm
December 3rd, 2pm

From Dramatic Publishing: "By chance, Kris Kringle, an old man in a retirement home, gets a job working as Santa for Macy's. Kris unleashes waves of good will with Macy's customers and the commercial world of New York City by referring parents to other stores to find exactly the toy their child has asked for. Seen as deluded and dangerous by Macy's vocational counselor, who plots to have Kris shanghaied to Bellevue Psychiatric Hospital, Kris ends up in a court competency hearing. Especially at stake is one little girl's belief in Santa. In a dramatic decision, the court confirms Kris as the true Santa, allowing Susan and countless other children to experience the joy of childhood fantasy."

Tickets available online; see link below.
---

Individual Ticket Prices:
​$14.00 Adult
$13 Subscriber
$9 Children and All-In
Groups of 10 or more will receive their tickets at the $13 Subscriber rate
*These ticket prices are the price after tax. We have included taxes into the ticket price for your convenience and ease.

Please visit the J.E. Broyhill Civic Center's website to find information on Season Subscriptions, All-In Packages, and Pick 4 options.

If you want to be a season ticket holder for Foothills Performing Arts, those tickets are now purchased through the JEBCC. You will purchase the Pick 4 option, and then select the 4 FPA shows. Those tickets can be purchased over the phone by calling the JEBCC box office at 828-726-2407 or online. The box office is open Monday through Friday from 10 am to 4 pm.
---
CALENDAR
November 2017
11/30, 7pm: "Miracle on 34th Street" at J.E. Broyhill Civic Center
December 2017
12/1, 7pm: "Miracle on 34th Street" at J.E. Broyhill Civic Center
12/2, 7pm: "Miracle on 34th Street" at J.E. Broyhill Civic Center
12/3, 2pm: "Miracle on 34th Street" at J.E. Broyhill Civic Center
12/11, 7pm: Auditions for "The Diary of Anne Frank" at J.E. Broyhill Civic Center
12/12, 7pm: Auditions for "The Diary of Anne Frank" at J.E. Broyhill Civic Center
January 2018
February 2018
2/8, 7pm: "The Diary of Anne Frank" at J.E. Broyhill Civic Center
2/9, 7pm: "The Diary of Anne Frank" at J.E. Broyhill Civic Center
2/10, 7pm: "The Diary of Anne Frank" at J.E. Broyhill Civic Center
2/11, 2pm: "The Diary of Anne Frank" at J.E. Broyhill Civic Center
March 2018
3/12, 7pm: Auditions for "The Odd Couple (Female Version)" at J.E. Broyhill Civic Center
3/13, 7pm: Auditions for "The Odd Couple (Female Version)" at J.E. Broyhill Civic Center
April 2018
May 2018
5/3, 7pm: "The Odd Couple (Female Version)" at J.E Broyhill Civic Center
5/4, 7pm: "The Odd Couple (Female Version)" at J.E Broyhill Civic Center
5/5, 2pm and 7pm: "The Odd Couple (Female Version)" at J.E Broyhill Civic Center
June 2018
July 2018
August 2018
8/4, 7pm: Foothills Performing Arts 42nd Season Willy Awards at J.E. Broyhill Civic Center


---